Although my friends and I totally had the coverage from New York of New Year's Eve running all night long, we completely missed everything good that happened with side adventures to YouTube. But that's okay, because that's what YouTube is for – when you're so busy watching YouTube that you miss out on the things happening in real life and need to see them after-the-fact on YouTube. One of the many things that happened that night was a performance of "Let it Go" by the wonderful and glamorous Idina Menzel. During her performance, Idina may have missed a note or two which caused the haters to come out in full force. People were tweeting things like "It seems that Idina Menzel's alter ego Adele Dazeem performed today instead." While this is hilariously clever, this generation is a bit too plugged in to appreciate live performances and the talent of artists' shows (which I plan to ramble about more in a different post). Idina Menzel replied with a classy and non-confrontational tweet quoting a prior interview she had: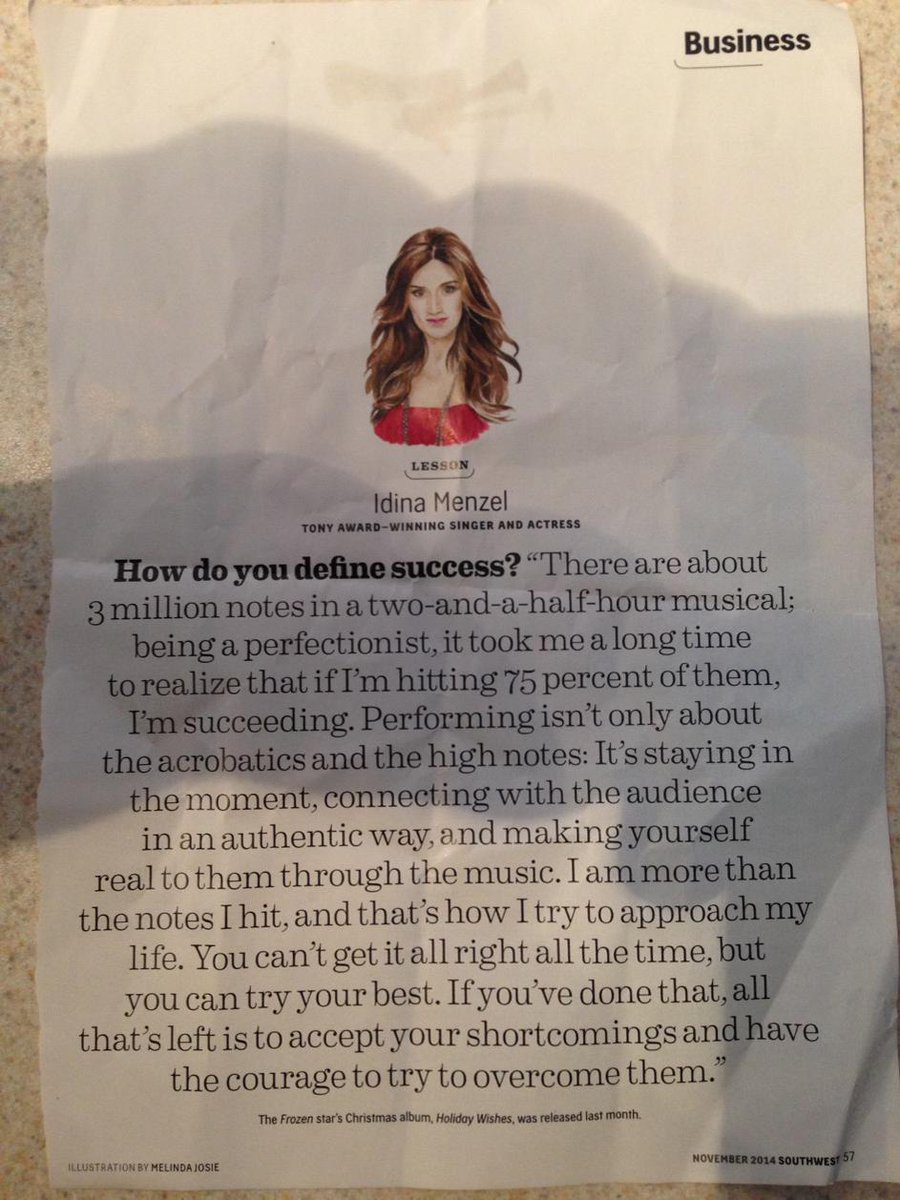 First off, the tact and grace with which this response was constructed blows my mind. But what I really appreciate about this response is not only that it is a perfect reply to people who attend live performances and expect an exact re-hash of the studio recordings (lame), but that it is also amazing advice about redefining success as something reasonably attainable. Idina encourages everyone to accept that you will make mistakes, and that success lies not in eliminating all short-coming, but in facing them head on and overcoming them.
Something that my mom taught me is that "Can't Just Means You Don't Want To" – (which, of course, doesn't include the medical incapacity to do something). What she meant by this is that when you're down, when you've failed, or when you've dug such a deep hole that climbing out seems like an impossibility, that really you're just so down on yourself or just so afraid of the work ahead that you're impeding your ability to do whatever it is that you say you can't do. For instance, when I was little and we were at the park, I tried to do a pull-up on one of the monkey bars and failed miserably. I told my mother that I can't do pull-ups. She replied, "Can't just means you don't want to. Practice, and one day you will be able to do one, but if you tell yourself you can't, it will never happen." I have gone my whole life not being able to do a pull up because I've let my failures stop me from ever making progress in that department. My brother, however, took my mother's advice and now can do pull-ups for days.
Idina is absolutely right, "You can't get it all right all the time, but you can try your best." And, moreover, if you put hard work into overcoming all of the obstacles and short-comings along the way, you'll be able to move mountains. Okay, maybe not mountains, but you'll be in the proper mindset to take on the world.